Your smile is one of your most valuable assets. A beautiful, well-balanced smile can enhance your self-esteem, make you look younger, and even support your career. Since few of us were born with perfect teeth, patients can rely on cosmetic dentistry advancements to help them achieve a more confident smile. If you have teeth that are chipped, discolored, gapped, or missing, turn to Allen Dentistry. Dr. Nylander is an experienced Allen cosmetic dentist who combines skill and artistry in dental services to enhance or recreate your smile with excellence. We offer a full range of options, from simple, non-invasive procedures to advanced services that can make your entire smile.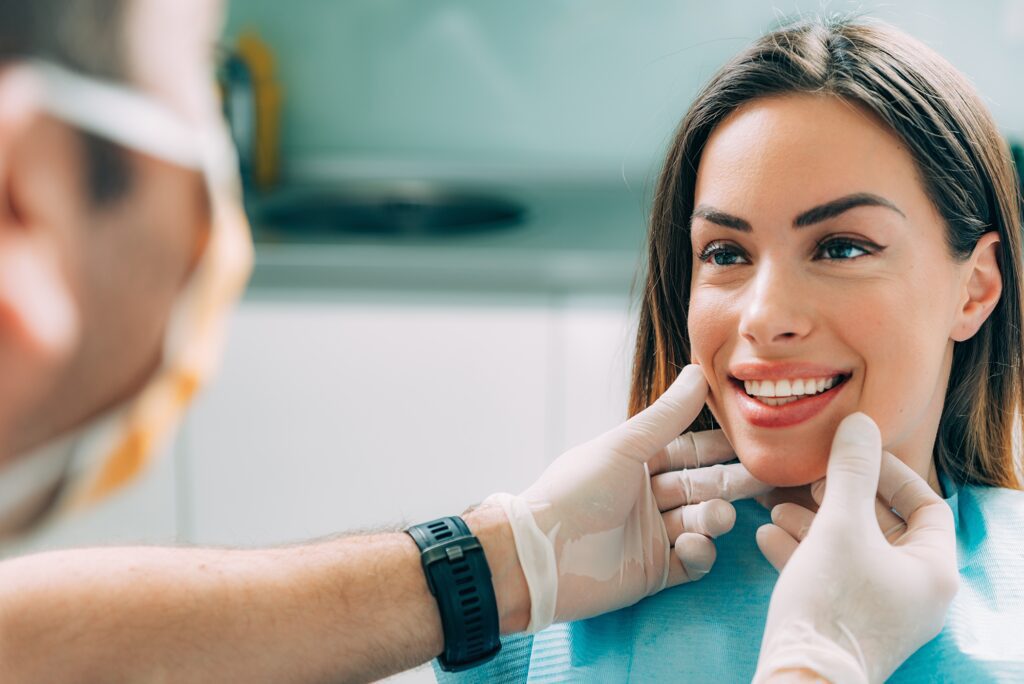 Our Allen Cosmetic Dentistry Services
Families in Allen choose us for the following and more:
Dental bonding is an excellent way to improve your smile's appearance quickly! It's a non-invasive, cost-effective procedure involving applying a tooth-colored resin material to the teeth. It's perfect for repairing chipped or cracked teeth and making other minor improvements, such as carving out spaces between the front teeth. We can also use the material to fill in gaps or even change the shape of a tooth. Best of all, it usually only takes one office visit, and no anesthetic is required. It's an ideal solution for those looking for a fast and easy smile transformation! Consider dental bonding for anyone who wants to make small but significant changes to their smile.
Professional teeth whitening is an excellent way to improve your smile's appearance instantly. It's a simple, cost-effective solution that allows you to brighten your teeth without anyone ever knowing. This whitening is much more effective than at-home products, as it is tailored to provide optimal results while protecting the health and safety of your teeth. By visiting our team, you can receive professional whitening treatment in a single visit and walk out with noticeably night teeth. So if you're looking for a fast and reliable way to give yourself a brighter smile, our professional teeth whitening service may be perfect!
Cosmetic crowns are a great way to restore your teeth' strength, appearance, and stability. We recommend this option if you have weak or severely discolored teeth. It makes it easy to combine the best of beauty and function for optimal dental health! The ceramic material in the crowns will perfectly replicate the look and feel of natural teeth, so you can be confident that your smile looks just like it did at its best. Plus, it's a quick and comfortable procedure with results that last a long time!
Porcelain veneers are an excellent option for those seeking to upgrade their smile quickly and painlessly. With porcelain veneers, there's no reason not to have a breathtaking smile! You can alter your teeth overnight with porcelain veneers, providing you with beautiful and natural-looking results. And because these veneers are made from strong and durable material, they can last up to 10 years or more with the necessary maintenance. Plus, you don't have to worry about any feelings of discomfort after the procedure – our skilled team will give you a safe and comfortable experience.
Relax and Enjoy Your New Smile
For many patients, a simple cosmetic procedure can profoundly affect how they look and feel whether you are here for our ZOOM! 1-hour teeth whitening or getting a complete set of veneers. When improving the aesthetics of your teeth, we use high-quality materials and the latest dental technology. Our technology allows us to reduce your discomfort and expedite your procedures. We also provide sedation dentistry for patients who want a truly pain-free experience. You can count on us to make your experience relaxing and enjoyable.
A Brand New Smile Without Breaking the Bank
Since cosmetic dentistry is not always covered under your dental insurance plan, Allen Dentistry offers a variety of payment options to alleviate your financial concerns. We provide monthly financing plans, flexible payment options, and special discounts. We even offer our beneficial Allen Dentistry Savers Plan so you can get the dental care you need at an amazing discount. And ask us how you can get free teeth whitening!
Exceptional Cosmetic Dentistry in Allen, Texas
Cosmetic dentistry is a life-changing investment for many patients. We use a knowledgeable and customized approach to provide long-lasting solutions for your smile. If you are ready to boost your smile's appearance, contact us today!